Bitumen Market Growing Outlook
The price kept rising after an approximate decrease of about 10 dollars in several regions. The Middle Eastern region prices were up about 10 dollars. The bulk bitumen was traded for $280 – $290 per ton and the new steel drum were $350 – $365. In Singapore, traders had per ton of bulk bitumen for $385 – $400 and per barrel of new steel drum for $495 – $510.
In Europe, bitumen price was almost steady in various regions and remained unchanged compared to the previous week.
And In Netherland Rotterdam and Belgium Antwerp, reports show that bitumen was about $400 – $410 PMT.
The economic condition and the vague situation with covid variants are still a concern to the market participants. New variants of covid keep popping up. After Delta, scientists are now worried about the new genetically enhanced virus called Mu. They believe the virus can be immune to all the vaccines; however, the researches will show how it affects the world.
Despite all the concerns, the participants and traders are not intrigued with negative sentiments as we can witness the growing trend of oil and commodities. OPEC also approved this fact by keeping the production level the same as the previous month.
The bitumen demand also keeps rising. The market has met many ups and downs through recent years but according to the chart below by Trading Economics, you can see that in 5 years the bitumen contract for difference (CFD) that tracks the benchmark markets have been on a rising trend.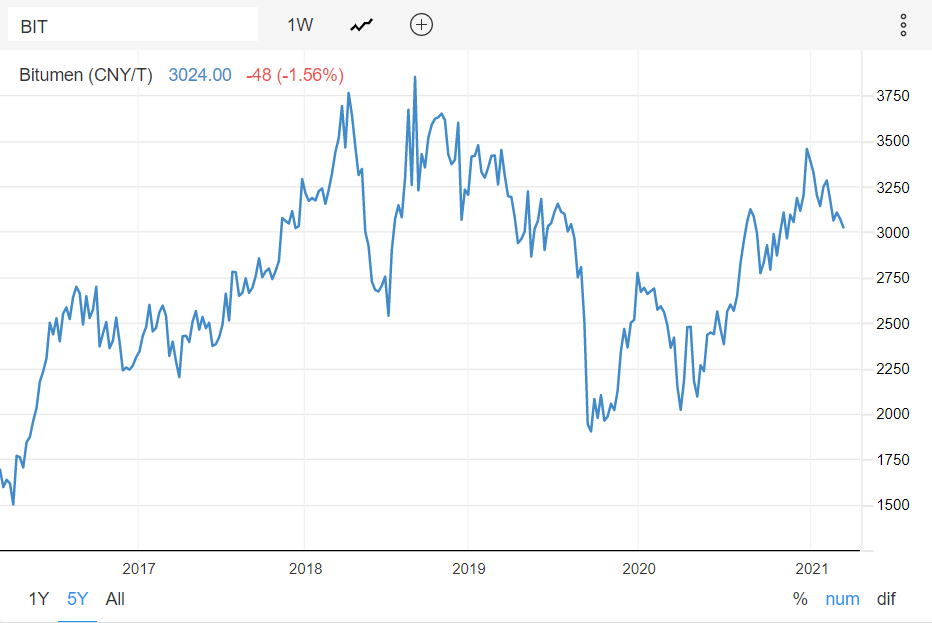 Moreover, to the chart, the world outlook on demand and construction clearly show a growing atmosphere for the market.
This article was prepared by Mahnaz Golmohammadian, the Content specialist and market analyst of Infinity Galaxy.