Reports on vaccinations efficacy invoked the sentiments in the way of better Pandemic management. Pfizer and BioNTech declared 91% efficiency in shots. Several other vaccine makers also released successful results and announced programs of distributing more doses of vaccines to the countries.
Last week, at the end of January, Infinity Galaxy reported soaring of negative sentiments in the market following the VIX sharp upward move. Considering the jabs result, the market and traders settled down this week and it seems they are preparing for a more stable market.
PMI reports of the U.S manufacturing part was not as promising as the market expected. The unemployment rate, on the other hand, decreased compared to the forecasts. It could have been a positive pulse for the US Dollar but the reports of the nonfarm section showed an increase in unemployment. Therefore, USD did not get any sharp increase or decline and it was nearly stable.
Aside with the OPEC+ decision on the last meeting about cutting the supply, the EIA also reported a sharp decrease in the U.S crude oil inventories. Dow Jones 4% growth signaled a better sentiment and a risk-tolerant market. All the incentives drove WTI and Brent higher. WTI increased by about 11% and closed at $56.95. Brent also grew 9% and finish the week by the price of $59.24. If the new stimulus package finds the way to the American households, another movement can begin in all markets towards upper prices.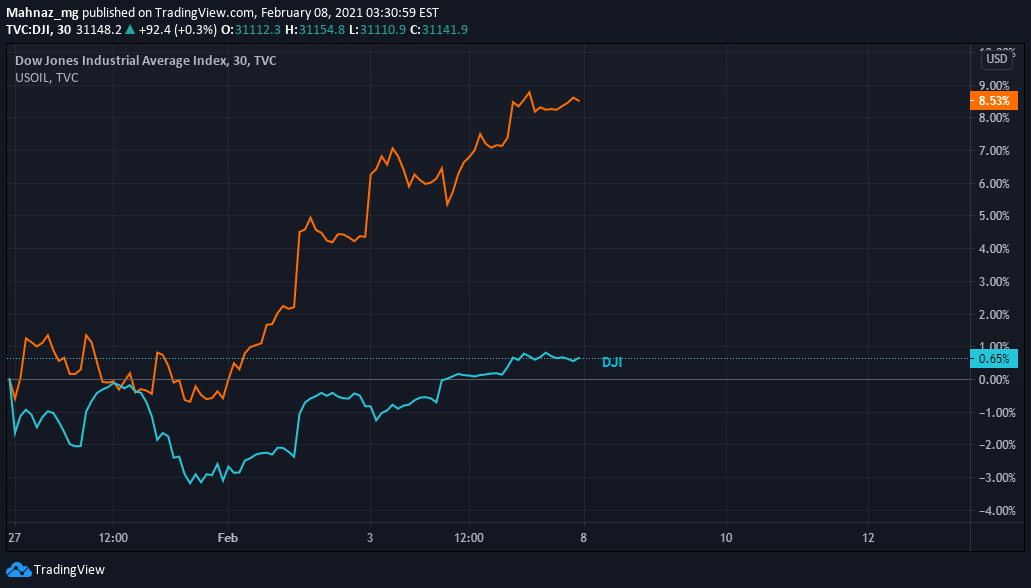 According to the positive correlation of stocks and oil, as you can see in the picture above, we may have a stable market for oil this week and an increase for stocks. Otherwise, the oil will see a correction to lower prices.